AAOS Articular Cartilage Restoration: Current, Emerging, and Advanced Techniques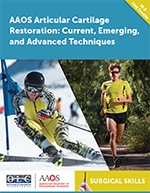 Cartilage Surgery Made Easy!
This premier skills course provides training for simple and complex primary and revision procedures, and features ample hands-on lab time with marquis faculty, industry-sponsored sessions, interactive discussions, panel debates, and expert demonstrations. Gain access to the latest technology before your colleagues, and learn the science behind it, so you can improve your proficiency and immediately implement new treatments for your patients.