Boston University School of Medicine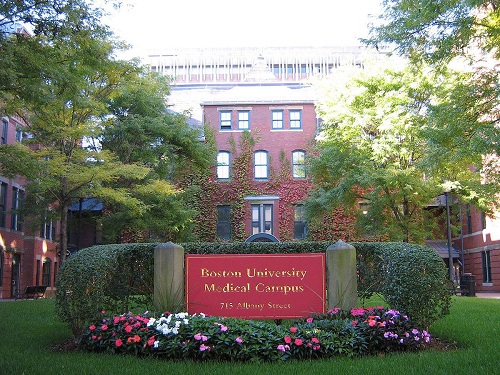 The Boston University School of Medicine (BUSM) is one of the graduate schools of Boston University. Founded in 1848, the  medical school holds the unique distinction as the first institution in the world to formally educate female physicians. Originally known as the New England Female Medical College, it was subsequently renamed BUSM in 1873. It is notably also the first medical school in the United States to award an M.D. degree to an African-American woman, in 1864.
As the only medical school located in the South End neighborhood of Boston, Massachusetts, BUSM and Boston Medical Center, its primary teaching hospital, operates the largest 24-hour Level I trauma center in New England, the largest network of regional community health centers, and possesses the most diverse patient base in New England. BUSM is also the home of the world-renowned Framingham Heart Study – from which all knowledge of cardiovascular disease risk factors were originally discovered. Notable alumni of the medical school include Marcia Angell, former editor-in-chief of the prestigious New England Journal of Medicine and the only woman to hold the position in the journal's almost 200-year history, as well as Louis Wade Sullivan, former Secretary of the US Department of Health and Human Services and founder of Morehouse School of Medicine. Boston University School of Medicine is ranked 28th on the 2018 list of Best Medical Schools in the Best Research category and 26th in the Primary Care category by the U.S. News & World Report.
Boston University School of Medicine is dedicated to the educational, intellectual, professional and personal development of a diverse group of exceptional students, trainees, and faculty who are deeply committed to the study and practice of medicine, to biomedical research, and to public health. As a community, we place great value on excellence, integrity, service, social justice, collegiality, equality of opportunity, and interdisciplinary collaboration. Join us as we practice Frontline Medicine.
Recent Medical School Class Profile:
In the autumn of 2010, BUSM's first year medical students were 52% female, and 19% were of an ethnicity that is under-represented in medicine. Out of the 178 matriculated students, 120 are in the traditional Doctor of Medicine (MD) program. Seven students were enrolled in the MD-PhD program, and the rest were in some other type of non-traditional MD track. BUSM also offers joint degrees with other Boston University graduate schools, allowing the medical students to earn an MD degree with a Master of Business Administration (MBA), Master of Public Health (MPH), or PhD. Over 13,000 people applied for admission to BUSM in 2018, and 171 MD students and 7 MD-PhD students were in the entering class, from 37 states and 19 countries. The acceptance rate for the incoming class was 4.3%. Students' ages ranged from 20 to 40.
A Long Tradition of Research and Innovations:
BUSM faculty push the frontiers of scientific and medical knowledge, just as they've done for more than 130 years. We're determining the fundamentals of how the human body and its pathogens work. We're discovering new ways to diagnose and treat the most devastating human diseases, including cancer, diabetes, Alzheimer's, heart attack, and stroke. And we're studying the genetic signatures of exceptional longevity in humans and the cardiovascular consequences of metabolic disease.
Our affiliations with Boston Medical Center, the Kaiser Permanente Collaboration in California, and more than 20 other institutional partners give our students the opportunity to treat diverse patient populations. The close tie between research and clinical programs help our innovations find real-world applications.
Focus: Compassion.
The heart of our educational philosophy is to create a community of future physicians, scientists, and health care professionals who are patient focused and skilled in caring for all people, regardless of culture or circumstance. Our students begin seeing patients the first week of the first-year curriculum. They conduct intake interviews, take vital signs, and learn to put the patient first. Students are contributing to the care extremely challenging patients and learn to effectively communicate with and treat each patient with respect and compassion.
Diversity and Inclusion:
BUSM has been committed to inclusion and diversity since our founding—both at the school and through our community outreach. Created by a merger of Boston University and the New England Female Medical College in 1873, we were the first coeducational medical school in the nation. Our alumni include the first black female physician and the first Native American physician. It's more than just talk for us. Recruiting and retaining a heterogeneous student body and faculty are a priority. We firmly believe in diversity of culture, race, and gender—and also ideas, solutions, and perspectives as critical components of achieving excellence at BUSM.