Home
/
News
Boston Medical Center Orthopaedic Surgeon Awarded Prestigious Traveling Fellowship from the American Orthopaedic Association
Boston Medical Center Orthopaedic Surgeon Awarded Prestigious Traveling Fellowship from the American Orthopaedic Association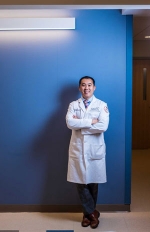 Source Link : www.bmc.org/about-us/stories/bmc-orthopedic-surgeon-awarded-prestigious-fellowship
Research Link: The 2015 AOA North American traveling fellowship
Mesfin A, Li X, Dickens JF, Alolabi B, Miller AN. The 2015 AOA North American Traveling Fellowship. Journal of Bone and Joint Surgery (JBJS) – American. 2016 Nov 16;98(22):e100.
BMC congratulates Xinning "Tiger" Li, MD, who has received the prestigious 2015 North American Traveling Fellowship (NATF) from the American Orthopaedic Association (AOA). Dr. Li is among only five orthopedic surgeons selected in the United States and Canada to receive this distinguished award. Considered to be one of the highest honors in academic orthopedics, the NATF traveling fellowship is awarded every two years to orthopedic surgeons who have shown outstanding clinical, educational, and research accomplishments. Past recipients of this fellowship have gone on to become leaders and pioneers in the field of orthopedic surgery.
The AOA-NATF tour was founded in 1968 and is an intense, five-week introduction to the diverse ways that leaders address challenges facing the field of orthopedics today. This year's tour will take place in October, and will span the Midwestern U.S. and Canada through 14 different academic medical centers. Some of the highlights include: University of Western Ontario, Rush University, Mayo Clinic, Northwestern University, University of Chicago, University of Michigan, and Washington University. The experience blends academic sessions with tours of various orthopedic centers' operating rooms, clinics, and labs. It enables greater clinical and scientific collaboration, and sets the stage for exciting new partnerships between medical experts.
"I feel extremely honored to be selected by the AOA as one of the 2015 North American Traveling Fellows," said Dr. Li. "It is a privilege to have the opportunity to travel to the different centers and to interact with the faculty members and residents at each location. I am hoping this experience will help establish new research collaborations between Boston Medical Center and other major academic institutions across the U.S. and Canada."
He added, "I am excited to see how other programs manage clinical care, education, and leadership. Seeing a different perspective from other major academic institutions will be a great experience. I hope to incorporate what I learn from the NATF fellowship into our orthopedics residency and clinical programs here at the Boston Medical Center to help improve education, research, and patient care."
In addition to his clinical work, Dr. Li is an Assistant Professor of Orthopedic Surgery at the Boston University School of Medicine and also serves as the team physician for Boston University Athletics. He completed his undergraduate degree at Campbell University in North Carolina and went to the University of Virginia School of Medicine. After graduating, he completed his orthopedic surgery residency at the University of Massachusetts Medical Center and spent one additional year in a tissue-engineering laboratory working on developing a novel synthetic bone graft substitute.
A member of the AOA's Emerging Leaders Program, Dr. Li completed a fellowship in Sports Medicine and Shoulder Surgery at the Hospital for Special Surgery (Cornell Medical School). During his sports medicine fellowship, Dr. Li worked with many experts in the field of sports medicine and served as the assistant team physician for the New York Mets professional baseball team. He also completed a second fellowship at Harvard Medical School in Shoulder and Elbow Surgery, spending two months working with shoulder surgeons in France. His research interests include reverse shoulder arthroplasty, glenosphere positioning, total shoulder arthroplasty, shoulder biomechanics, shoulder instability, national database research, magnetic resonance imaging of the shoulder and knee, and tissue engineering. Dr. Li has also contributed to more than 100 publications, book chapters, posters/podiums and abstracts over the course of his career.
Dr. Li's clinical expertise includes primary and revision ACL reconstruction, multi-ligament knee injuries, cartilage loss, meniscus injury, patellar instability, rotator cuff and labral tears, shoulder instability (Bankart repair or Laterjet procedure), pectoralis and distal biceps tendon rupture, shoulder arthritis (total and reverse shoulder arthroplasty), and elbow injuries. In addition, he has a special interest in complex shoulder reconstruction including muscle transfers for scapula winging, scapula-thoracic pain, revision rotator cuff surgery, and failed shoulder arthroplasty.